Livermore's Most Effective Personal Training Program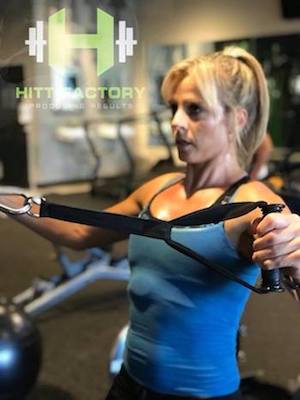 At HITT Factory in Livermore, our Personal Training program is designed to give you the results you have been looking for, while also providing you with the knowledge to maintain your results!
We're helping you get your body moving and your heart racing and we're tracking it all with the MyZone Personal Effort Monitor.
The MyZone Personal Effort Monitor is perfect for athletes of all experience levels because it is customized to your fitness goals and abilities. Whether you have never stepped foot in a gym before or you're an experienced athlete, the MyZone Personal Effort Monitor is perfect for you.
Come see us today or simply fill out the short form on your screen to learn more!
What Makes Our Personal Training Program So Special?
Personal training is a shortcut to results. Through personalized nutrition strategies and custom workouts, our trainers will empower you with every tool you need to lose weight, upgrade your athletic performance, or improve your muscle tone. HITT Factory is home to the best personal trainers in Livermore, and we're proud to give back to our community by helping ordinary men and women lead happier, healthier lives!
The MyZone system includes a comfortable belt that sits just below your chest and is designed to track and monitor your progress from start to finish. This system not only gives you a better understanding of your workout, but it also gives you the motivation to push harder.
We take the guesswork out of your fitness routine.
Our Personal Training here in Livermore includes:
Customized workout routines
Fast-paced kickboxing classes
High intensity interval training
And so much more!
The MyZone Personal Training App Will Give You The Extra Push You Need!
The MyZone Personal Training program will be a game changer for your workout. If you need a flexible schedule to accommodate your busy life, or if you need to change up your workout routine from week to week, no problem!
This system gives you remote access to your data and complete control over your journey. Train from wherever life takes you and get the most out of every single session.
And don't forget: The MyZone Personal Training system makes it easier than ever for you compete and share progress with your friends. You will meet your goals in no time!
Change Your Life For The Better With Personal Training In Livermore
If you are sick and tired of boring workout routines, its time to try our Personal Training program here in Livermore. We're challenging people of all fitness levels to find success and we can't wait for you to be next.
Come see us today or simply fill out the short form on your screen to learn more!